RNR Techvibes backed by ......
We are delighted to introduce RNR Techvibes an innovative & technology driven, Website designing and development, Web application development, Software development, Mobile App development, ERP development, Game development, Graphics design, Open source technologies, Redesign existing website, Parallax Website, Responsive website, SEO, SMO, PPC, Content Writing, Hosting service provider with headquarter and development center located in Surat, India.
With our rich expertise in Customized, we provide customized solutions that are innovative, scalable and affordable. We create and deliver industry-leading technologies that enable customers to build, deploy, manage, and integrate powerful solutions.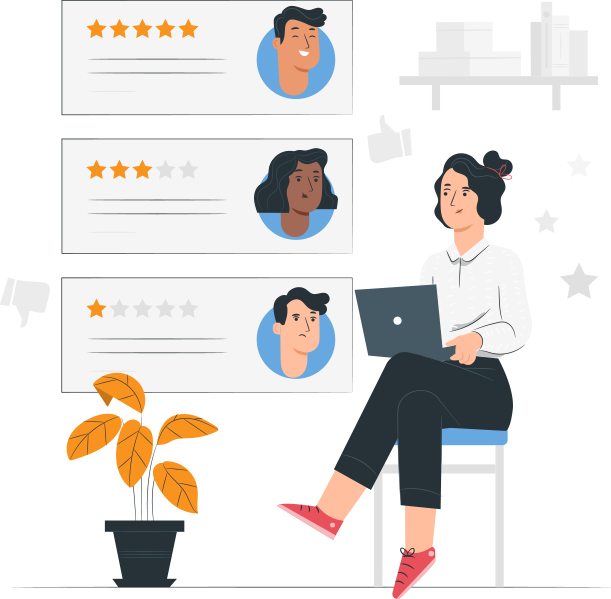 We signed on Reshma Patel about two years ago, and have had nothing short of an excellent experience! I have gotten excellent feedback from people visiting my site. By far the best team we have worked with. Highly recommend their services!
Rigs and Resh had done a fantastic job in creating a very unique and attractive website. They are very responsive and professional and his communication skills are great too. Rigs was very patient and accommodating last minute requests and constant refinements and I highly recommend his services.
Rigs worked hard to ensure all my website changes were in place. He was patient and communicated well throughout the process.
Gentleman and man of words.
Resh is one of the best freelancers I have ever worked with. Three other freelancers looked at this job and did not have the skills and expertise needed but She was confident she could deliver the project perfectly as I required and that is exactly what she did. She has delivered quality work within budget and time and has been a pleasure to communicate with. I look forward to working with Resh again soon. **Great work mate =)**
One of the best and patient developer on freelancer.com , He has got very good working ethics.
Did a great job fast to specification and to budget, again! I would recommend to you this person for your website setup and editing needs
Perfect work and great communication.
amazing, on time A+ very good with details, Thank you
Best person to work with. All I can tell you is, hire this person if you have any issues with your wordpress site. He/she's a site doctor and I'll hire them again. Thank you very much!
Great job, patient and understanding. Quality of work very good. Will hire again!
Amazing Job I will work with Reshma again, excellent technical skills and communication . Recommended
Excellent quality and proficiency. Delivered project on budget and on time. Highly Recommend
Very honest, respectful and nice person. Great communication. Will definitely hire again soon. thanks!
We hired the Rigs and his team to redesign our company website. Their work exceeded our expectations. They are very professional and patient and we maintained great communication. We appreciate that they continued working until we were 100% satisfied. We plan to hire them again for future projects.
Awesome coder. Thanks for support!
He did an amazing job and I will use him over and over again!
Very good Developer. He knows his stuff 🙂 I will hire him again if I need any help.
Excellent service, fast, professional, overall great!
This guy gets it done right. Understands perfectly. Cannot go wrong with this freelancer!!! 100% satisfied!!!!
Excellent service, great communication, great job and very fast. I'm really happy. Thanks!
RNR Techvibes
317, Green Elina,
Opp. Sneh Sankul Wadi,
Anand Mahal Road,
Gujarat 395009
Mysphere Infotech
TH – 312, S9 Square,
Next To Lilleria Party Plot,
Sama Savli Road, Vadodara,
Gujarat 390024